D

escription

B

ottleCheck -

M

anually

f

ermentation-end-recording

d

evice

Quick check for any cellar master who wants to sort out non-destructively "bad bottles" in a few seconds from his stock.

Function:

The BottleCheck-device is used after completion of the 2nd fermentation in the bottle to sort out "bad bottles" with fermentation-problem.

The device is placed on the bottle neck and the deflection of the crown cork is measured, without destroying the bottle. This gives information about the existing pressure in the bottle. This means you can use the same bottle to measure changes of the fermentation and pressure over time.
Results within a few seconds only
Non-destructive measurements
Hand tool
Robust workmanship
Easy handling
Economic
Suitable for use everywhere in the cellar
Allows to control a large quantity of bottles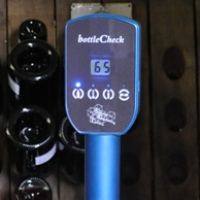 A

re there more information?