SET

- The life cycle partner for your
manufactoring and production machines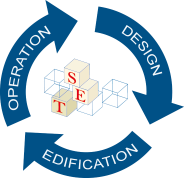 We are the competent, customer-oriented, flexible and long-term partner for customized, energy-efficient process and production systems. We aim to win customers worldwide with our innovative solutions.
In special machine construction and in the new business field of photovoltaics, our mission is to develop complete solutions for industry, commerce, agriculture, municipal property developers and private customers and to convince our customers as a competent, reliable partner.
A well-rehearsed team provides you in your projects.
SET. get your vision to reality.