SET

- The life cycle partner for your
manufactoring and production machines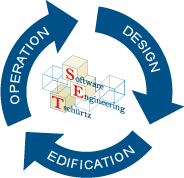 Software Engineering Tschürtz offers consulting, planning, designing, developement, construction and maintenance for your process and manufactoring machines. Furthermore your product life cycle partner design and create software solutions in the automation technology.
We offer complete solutions with a innovative and competent team, which exists of software developers, constructing engineers and technicians. Our customers know us for our customized and flexible solutions.
A well-rehearsed team provides you in your projects.
SET. get your vision to reality.